Using UnitConnect, managing properties has never been easier. All of your property's information in one place, including tenants and bills. It's the one stop shop for all your real estate needs. The first step in achieving that would be to create a property
There are a couple of ways to open the New Property Wizard. Here's how:
Click Admin in the top Navigation Menu, and click Go next to where it says New Property Wizard
Click Properties (either in the Top Navigation Bar or the Actions Menu), then in the Related Actions menu look down to where it says New Property and click it.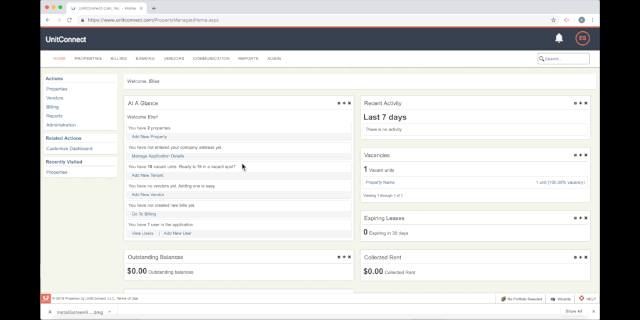 Once there you fill out the information:
The Information tab has the property's name, address, type of property, number of units, and some optional details like block lot and size.
The Owner has the owner information and their share. You can either create a new owner or select an existing one.
The Bank Accounts tab allows you to create a new bank account for the property or associate with an existing one.
The Billing tab is where you set some billing defaults such as billing date and default payment receipt date.