The Property Information page is where you go to change or review property details. You can navigate to there by clicking Properties, selecting the desired property, and then Property Info in the Actions Menu.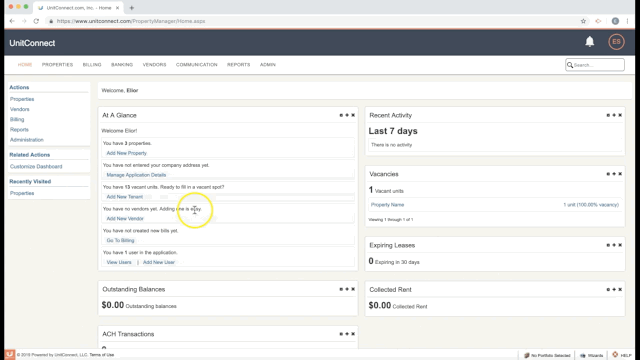 Notice the six tabs under the Property Info section:
The Properties tab is where you can edit the property's information, such as address, size and name.
In the Owners tab you can add, modify, or delete an owner of that property.
In the Banking tab you can change which bank you want to be associated with that property. You can't add a new bank in this page, only in the Banking page.
You can set, specify, or change any of the billing defaults in the Billing tab. Be sure to click the Update button to save the changes.
You can upload, modify, preview or delete any of the documents related to this property in the Documents tab. Such documents may include water reading receipts, plumbing bills, etc.
In the Notes tab you can add, view, or modify specific notes or custom fields.
To navigate to a different property while staying on the same page, you can do so by clicking the green icon at the top section of the page.