Roles allow Administrators save customized permissions.
To create a Role first you must open the New Role Page. Start by clicking Admin in the Top Navigation Bar and selecting the User Management Tab. Then click GO next to where it says New Role Wizard.
Role Details:
Enter a Role Name (required) and Description (optional) and select one of the role options. The one you choose will be the template for customizing a role.
"Create From Scratch"- go through each task and toggle which permissions you want to be enabled.
"Model After Role"- select an existing role to start with its custom permissions(ex. Starting with the Administrator Role will automatically enable all permissions).
"Model After User"- select an existing user to start with their custom permissions
Role & Permissions:
Determine and configure the tasks and functions the role can perform. Select a task group and scroll through the permissions while enabling or disabling them.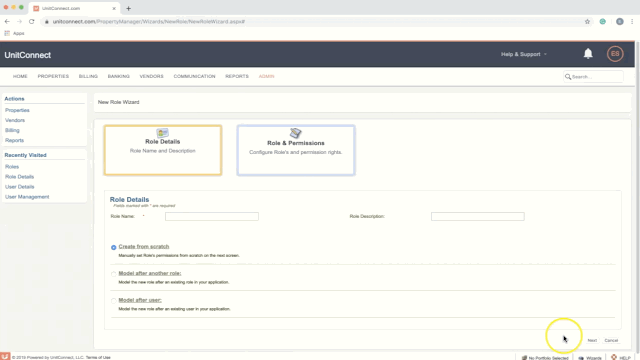 Click Finish and you've just created a role!