Typically, the CAM Reconciliation process is performed at the beginning of year. The process reconciles actual expenses for the property against tenant's contributions towards Tax, CAM and Insurance for prior calendar year.
To start the reconciliation process click on Properties, select the desired property and click on Property Budget. The Reconciliation tab under the Property Budget Page displays each tenant's yearly share of a property's budget. Tenant's responsibilities are broken down by Tax, CAM, and Insurance. This is what you'll see when opening the page:
Let's Breakdown what this table contains:
The leftmost column lists all of the tenants in the property. The next three major columns are Tax, CAM, and Insurance, each has three sub-columns under it.
The three sub-columns are:

Share: under this column is each tenant's share of Tax/CAM or Insurance based on Tenant's obligations that are set on the Rent Details page and the actual expenses for the respective calendar year selected.
Escrow: This column lists how much the tenant has paid as escrow for the respective calendar year selected.
Balance Due: This column is just the difference between Share and Escrow. A positive balance indicated that the tenant has underpaid and has a balance due. A negative balance means that tenant has overpaid and has a credit due to tenant.

Select any tenant and click Details to view the tenant's lease details based on what's set on tenant's Rent Details page.
You may override any amount due by change the amount in the Balance Due section. Click Save to save any changes you may have made, and Reset to reset the charges based on tenant data and actual expenses. Keep in mind that changing the amount will not change the report as the report is generated based on Actual Expenses and Income. The report can be downloaded in Excel under the Reporting section if any specific changes are required.
To apply the charges to your Tenant's invoices, Click Apply Charges to have any charges or credits displayed on the Reconciliation page added to your tenant's invoice for the billing cycle selected.
To download a PDF report of a tenant(s) CAM Reconciliation, simply select which tenant(s) you want with the checkboxes and click Report at the bottom right of the table.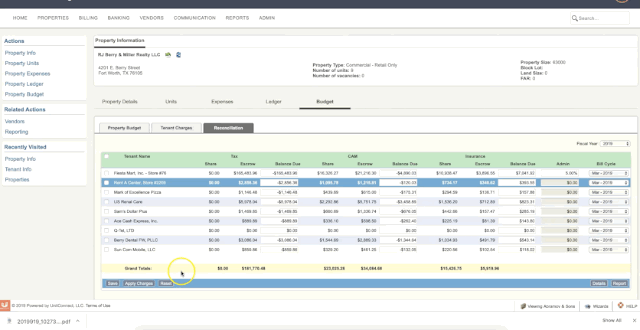 Here's what a report could look like: